The holiday season is here, and you know what that means. Being thankful, giving, and cherishing your time with the loved ones around you. Everyone needs love for the holidays, but today we're talking about your moms, sisters, aunts, and maybe even that special someone.
Shopping during the holidays isn't easy, and it might even strike you with a bit of fear of getting the wrong gift or worse — ending up choosing a gift card. 
If you're reading this and are a little lost — don't stress. We have the three perfect outfits for this holiday season and next: a party dress, some comfortable pajamas for Christmas morning, and something casual for a typical winter day. 
Here are some of our top picks for gifts this holiday season from one of our favorite brands — Draper James
The Perfect Pajama Set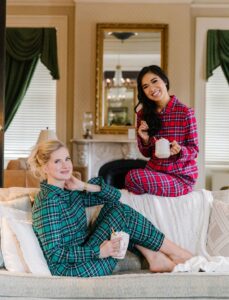 While you may be freaking about what you're going to get her for a holiday gift — she's going to be busy. 
Busy shopping because women are natural shopping experts. And after that tiring busy day of crazy holiday shopping, she's ready to hit the hay in one of her cutest pajama sets, just because she's feeling herself. Plaid is a timeless winter and holiday clothing pattern that's never going to get old. The Check Buttom Up Sleep Set just happens to be perfect for turning your girl into a happy camper.
A Holiday Dress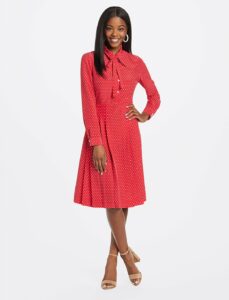 Finding just the right dress for a holiday party is your first priority. You want something beautiful, yet comfortable. This little Tie Neck Shirtdress checks all your boxes. It's fun and flirty, while also demure and comfortable. 
Polka-dotted dresses are fun, fresh, and in style. This dress's vibrant red is perfect for her holiday glow up and not to mention that it screams Christmas.
Keeping it Casual with a Sweatshirt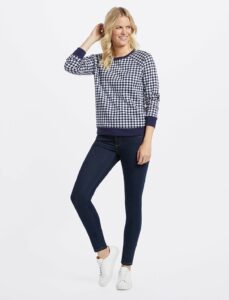 Not every day is a dress-up day, but that doesn't mean you can't still look good. A simple cute sweatshirt might be all you need to make her happy. Patterns are in, and they add more dimension to your style. This light blue and white plaid sweatshirt is an excellent winter-casual wardrobe piece. 
The new holiday collection from Draper James checks every box with its playful prints and wintery design details – simply put, we can't get enough of it.
See the complete collection online or at one of their retail locations.