Traveling has never been more accessible than now. Our world is remarkably connected and every trip we take allows us to continue connecting. Whether you're traveling across the world or jumping on a bus, you need the right luggage to get you there. There's nothing worse than a heavy suitcase that slows down your travel plans.
Lightweight, high-quality luggage sets often come with extravagant price tags. Luggage companies don't often implement direct-to-consumer selling and you're the one paying for the middleman. The costs can run you upwards of $700 for a suitcase that might even be vulnerable to travel damage. If you're looking for an affordable, lightweight luggage that's sure to last you years, then Away luggage will be your perfect travel companion.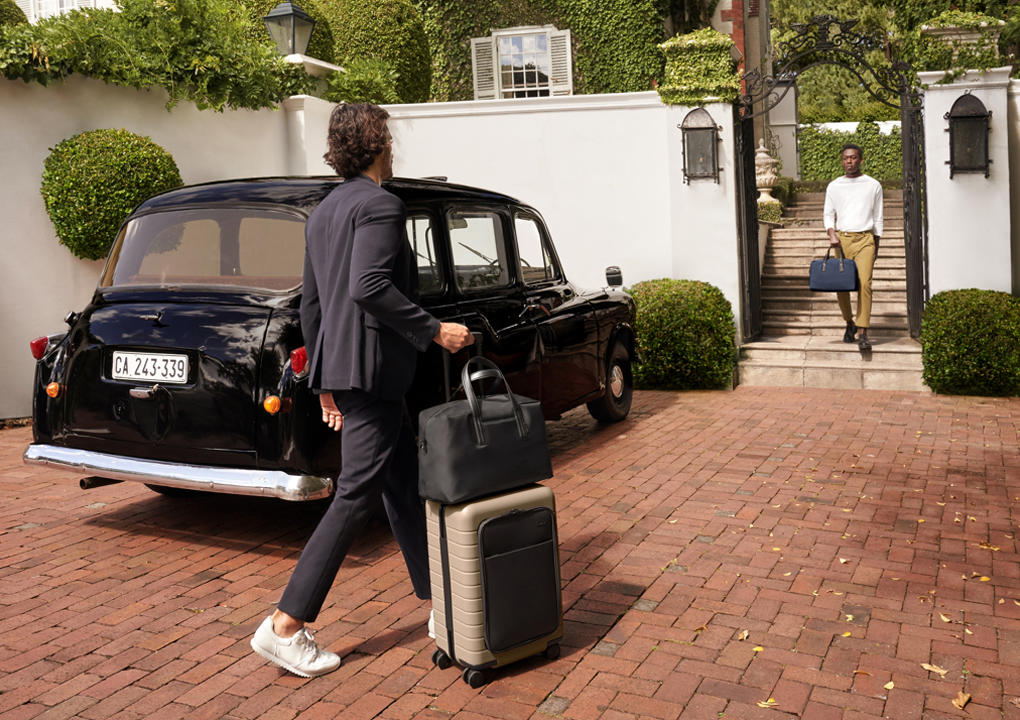 Each Away travel luggage is customized to your lifestyle so that you can cross a new suitcase off your travel checklist. With different suitcase sizes and styles, you'll quickly find the perfect one for your next trip. With smart luggage design that includes a TSA-approved battery to charge your phone, luggage from Away will surpass your suitcase expectations.
The Overall Design
Packing has never been easier than with Away luggage. Each one features a polycarbonate shell exterior to avoid suitcase damage after a flight. The exterior is durable enough to keep your stuff safe while still being flexible enough to give you a little extra room for any must-have items.
Inside each suitcase are two compartments for storing your belongings. One compartment is for your clothes and the other for harder items like shoes and toiletries. All four of the wheels rotate a full 360 degrees without making a noise, making pushing and pulling it around a breeze.
When your trip is over, pack up your clothes in the hidden water-resistant laundry bag. The bag is easily compressed, leaving you with even more space to pack extras you might have acquired on your travels. With four different suitcase sizes, you can find one that suits your personal needs.
The Carry-On Is a Lightweight Luggage That's Neatly Compact
Available in ten unique colors, including sky blue and brick red, the Carry-On was designed with durability and style in mind. It's perfectly sized for the overhead bin of most major airlines. The suitcase fits 5-7 outfits inside and is perfect for local flights. If you're only planning on leaving town for a few days then this pull along suitcase is your best bet. Each of the carry-on suitcases comes with an optional ejectable battery that can charge your phone while on the go.
The Bigger Carry-On Is Perfect If You Need the Extra Space
If you have a tendency to over pack for every possible scenario, the Bigger Carry-On is a prime choice. Just like it's counterpart, this suitcase was made to fit perfectly in the overhead bin of most major US airlines. However, if your travel plans include a shorter trip on a budget airline, then you may end up having to check this bag. At 7.8 lbs, you can be sure to get the most out of this suitcase. It can hold 6-9 outfits and the included combination lock is TSA-approved.
The Medium & Large Are Excellent for Longer Trips
The Medium and Large are both checked bag options that are spacious enough for all of your belongings without being ridiculously large. With 9 signature colors, you can pick a shade that'll instantly stand out to you on the baggage carousel. The medium has a capacity of 68.8L and weighs 9.6 lbs. The large, on the other hand, has a capacity of 99.2L and weighs 11.2lbs. Despite both being larger suitcases, they are still easy to carry around for both business trips and personal vacations.
Make It A Set
Why choose just one suitcase when you can take advantage of luggage sets? Invest in a carry-on and a medium or large checked bag set. If you like the idea of having an ejectable battery that you can charge your electronic devices with, then a luggage set is one of the best ways to make that happen.
If you're planning a big trip or need a bag for everyone in the family then this is a great way to do so with value in mind. All of the suitcase sizes can be personalized as well. Choose between a stamped luggage tag or have up to three letters painted onto your actual luggage. This will help prevent any mixing up of bags with other family members or friends.
Travel in Style with the Everywhere Bag
Set yourself apart by building your own travel uniform with an Everywhere Bag. The Everywhere Bag is the perfect attachment for your carry-on suitcase. The bag was built to slide over the handle of any luggage crafted by Away. This nifty design helps keep the bag in place as you shuffle through the airport.
The bag is made from water-resistant nylon and looks great when paired up with any of the suitcases so you can travel in style. Unlike many other travel bags, the Everywhere Bag features an intuitive organizational design. The bag makes it easy to store and find your belongings, so you won't have to wonder if you remembered to pack your passport.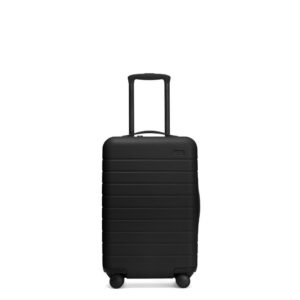 Away travel luggage is the personalized suitcase that fits any and all of your needs. The affordable cost and durability of this minimalistic suitcase makes it a worthwhile investment – especially if you're an avid traveler.