Companies in virtually every industry are focusing more and more on environmental responsibility. As innovations in sustainability are released, we as consumers are able to minimize our impact on the environment with the products we buy. But, have you thought about what happens to those products once you're done using them?
Enter Thousand Fell, a rising sneaker brand based in New York City. They're gaining traction with a focus on the lifespan of a sneaker – not only are they offering biodegradable sneakers that are designed to last, but they're also running a program to keep their sneakers stay out of landfills. 
Here, we'll learn how and why Thousand Fell is boosting the sustainability of consumers' wardrobes with a pair of white sneakers.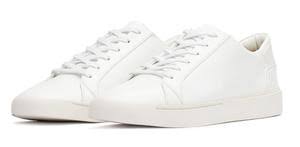 Sneakers With A Life Cycle
Future friendly footwear. That's Thousand Fell's sweet and simple catchphrase, and it encompasses their goal to innovate the footwear market. Urging consumers to "never send another sneaker to landfill", Thousand Fell will take their sneakers off your hands once you're done with them, then ensure that they're recycled, not sent to a landfill (like about 97% of footwear is).
How exactly can these sneakers be recycled? The key is that they can be disassembled, enabling the company to recycle certain components into new shoes, while others are recycled or composted independently. Adhesives that can be conveniently removed are also important, as they make it possible to disassemble the shoes cleanly.
And nothing is holding Thousand Fell users from sending back the sneakers for recycling – the company pays for all shipping expenses.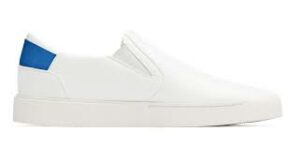 A Smarter White Sneaker Design
The shoe designs that Thousand Fell offers are simple – in fact, there are only four products available: men's lace up, men's slip on, women's lace up, and women's slip on (each available with a pop of color on the back of the heel). Simple white sneakers are a staple in young adults' wardrobes, but they're known to wear out easily.
Thousand Fell tackled that issue, sourcing ultra-sustainable materials that were fit to last. The brands sneakers are built to survive over 2,400,000 steps, and they're resistant to stains and water. So, these sneakers won't just eliminate the number of sneakers that you're sending to the landfill – they'll also seriously cut down on the number of sneakers you burn through in a year. 
Among our other favorite features of Thousand Fell sneakers are:
A biodegradable leather material that won't cause blisters, even when the shoes are brand-new. 

A breathable aloe vera liner to cut down on odors, even if you go sockless.

A super-comfy insole made from recycled yoga mats.
Thousand Fell is Aiming For Change
Despite being a new name in the sneaker industry, Thousand Fell is making waves for their intense dedication to sustainability, while offering shoes that people will actually want to wear. With four products available online today, Thousand Fell is growing quickly in popularity, but they're not done innovating. The company is continuing to pursue better, even more sustainable materials to improve the already-impressive life cycle of their shoes. If you're already dazzled, know that there's much more to come from Thousand Fell, and it'll likely change the way we think about footwear.